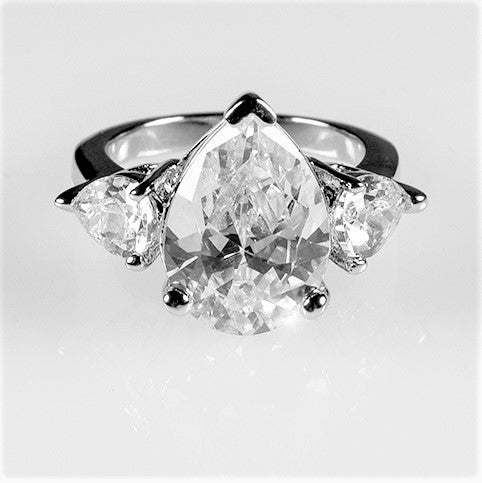 Delilah 6ct Pear Three Stone Engagement Ring | 7.5ct
Delilah Pear Cut Three Stone Engagement Anniversary 7.5 Carat Cubic Zirconia Ring.
This 7.5 carat triplet engagement and anniversary ring is created with 6 carat pear cut cubic zirconia center stone and geniune rhodium plated polished into a lustrous silvertone finish. Love and femininity are the emphasis of this ring, this pear triplet ring is truly a loving gift for any occasion between two lovers. The body is ever so delicate yet supporting a large stateent triplet of beautiful teardrop shaped stones that sparkles brilliantly.
Item: BSJG-ER107604RC01
Plating Color: Silvertone Rhodium
Base Metal: Lead Free Alloy (Brass)
Gemstone Grade: AAAAA Cubic Zirconia
Gemstone Cut Grade: Ideal
Gemstone Color: Clear
Total Carat Weight (appx): 7.5ct
Center Stone: 6ct
Stone Cut: Pear
Stone Size: 13mm x10mm - 6.5mm x 5mm
Adornment Size: 21mm L x 15mm W
Face Height: 8mm
Band Width: 2mm
Setting Type: Prong
INTERNATIONAL RING SIZE CHART: