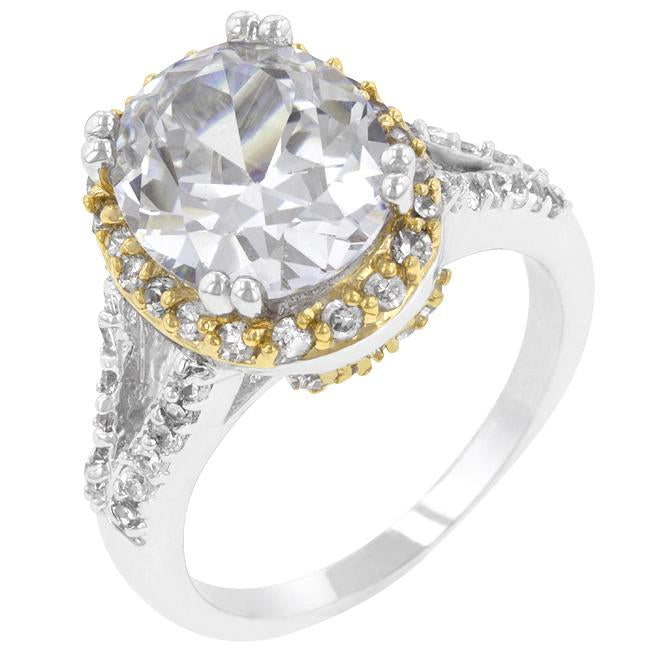 Jasmine Two-Tone Oval Solitaire Engagement Ring | 6ct | Cubic Zirconia | Silver
Jasmine Tow-tone Oval Cut 6 Carat Cubic Zirconia Silver and 18k Gold Plated Ring.

Two-Tone Plated Classic Engagement Ring with Clear, 6ct Oval Cut Cubic Zirconia in a Prong Setting, 18k Goldtone and Silvertone Plated. Clear stones accent a large oval stone in a delicately glamorous engagement style ring.
Item: BSJ-ER107685TC01
Plating: Silvertone Rhodium Plated,18k Gold Plated
Base Metal: Lead Free Alloy (Brass)
Gemstone: Grade AAAAA Cubic Zirconia
Gemstone Cut Grade: Ideal
Gemstone Color: Clear
Total Carat Weight (appx): 6ct
Center Stone: 4.5ct
Stone Cut: Oval
Stone Size: 10mm x 12mm, 1.25mm
Adornment Size: 21mm L x 13.5mm W
Face Height: 10mm H
Band Width: 2mm W
Setting Type: Prong, Pave
INTERNATIONAL RING SIZE CHART: