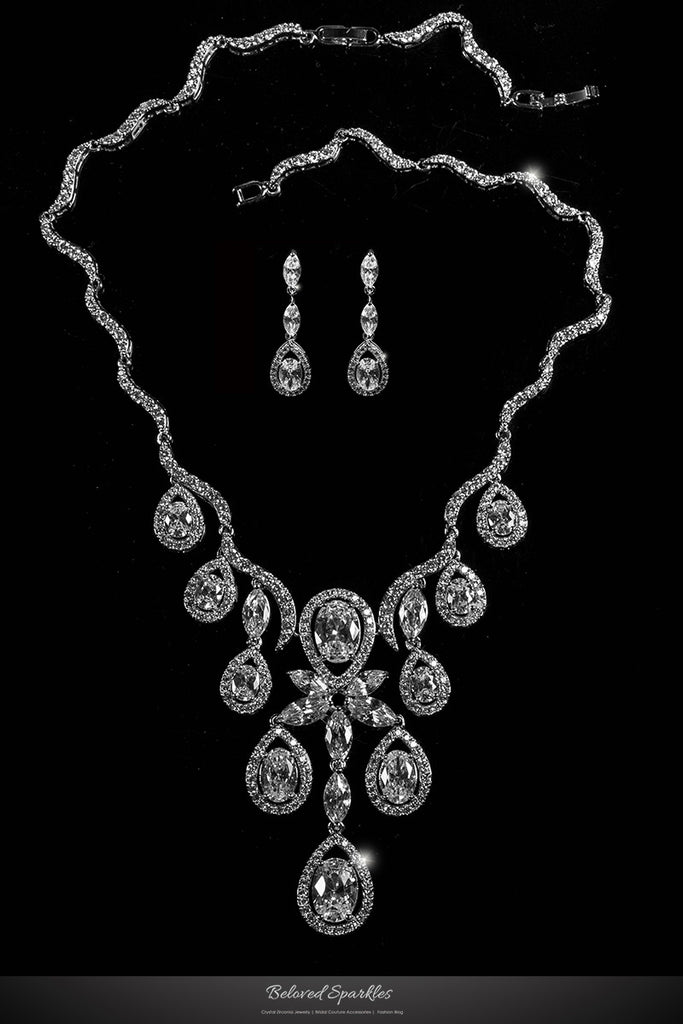 Amadela Vintage Teardrop Necklace Set | 80 Carat | Cubic Zirconia
Amadela Vintage Teardrop Dangle Cubic Zirconia Necklace and Earrings Set.
Description:
This Exquisite Vintage Majestic Teardrop Dangle Necklace and Earrings style is created with best quality sparkling Oval Cut and Marquise Cubic Zirconia, Round CZ Accents, Genuine Rhodium Finish and Box Clasp Closure. This vintage design is beautiful piece for the bridal to embrace her desire to be the center of attention. It is so stunning which is truly fit for a royal event.
Item: BSL-NS12085
Color: Silver
Gemstone: Grade AAA Cubic Zirconia
Necklace Carat Weight (appx): 80+ ct
Necklace Length: 432mm L (17in) + 58mm L (2.3in) (extender)
Adornment Front Dangle: 79mm H (3.1in)
Earring Size: 52mm L (2in) x 15mm W (.6in)
Stone Cut: Oval, Marquise, Round
Stone Size: 14mm x 11mm, 12mm x 8mm, 14mm x 6mm, 11mm x 5mm, 8mm x 6mm, 3mm, 2mm,
Gemstone Cut Grade: Ideal
Gemstone Color: Clear
Metal: Genuine Rhodium Plated (over Brass) for Anti-Tarnish
Closure Type: Box Clasp