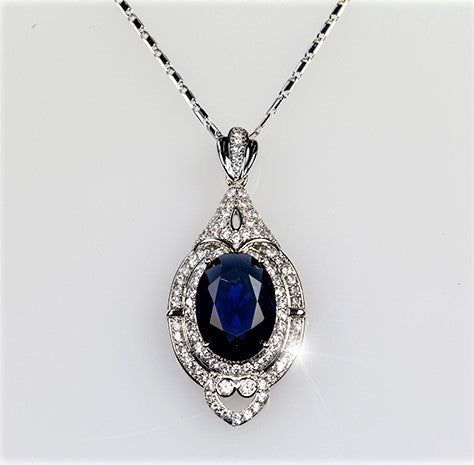 Adela Art Deco Sapphire Pendant | 27ct
Adela Vintage Art Deco Sapphire Blue 27 Carat Oval Pendant Necklace.

This gorgeous 27 Carat Vintage Art Deco Pendant Style is created with best quality 16 Sapphire Blue Oval Cut Crystal Center Stone, Accented by Clear Pave Cubic Zirconia and 18.5 Inch plus Extender Link Chain and Polished into a Lustrous Silvertone Finish. This is a vintage timeless piece will pair beautifully with your event attire. 
Item# BSA-PZT1814PSAPP
Color: Silver
Gemstone: Grade AAA Cubic Zirconia, Swarovski Crystal
Pendant Size: 52mm L (2in) x 23mm W (.9in)
Necklace Length: 470mm L (18.5in) + 101mm L (4in) chain extender
Total Carat Weight (appx): 27 ct
Center Stone: 16 ct
Stone Cut: Oval, Round
Stone Size: 18mmx13mm, 2mm
Gemstone Cut Grade: Ideal
Gemstone Color: Clear, Sapphire Blue
Setting Type: Prong, Pave
Metal: Genuine Rhodium Plated (over Brass) for Anti-Tarnish