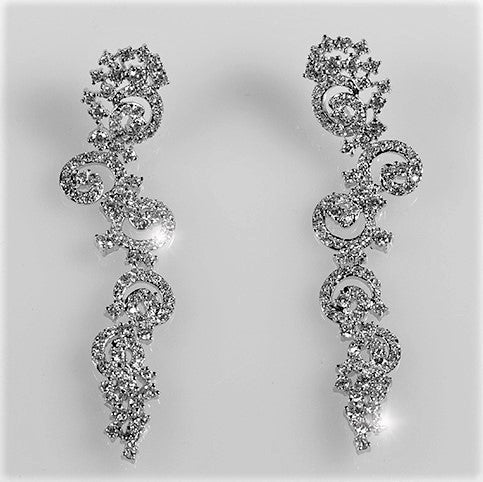 Rosalina Swirls Linear Chandelier Earrings | 77mm
Rosalina Art Deco Swirls Linear Chandelier 8 Carat Cubic Zirconia Earring

This Art Deco Swirls Linear Chandelier Statement style is created with best quality sparkling Cubic Zirconia with Rhodium Finish. The romantic swirls of this design will complement beautifully with all event evening attire. This exquisite piece is gorgeous and will be beautiful on modern and vintage brides, as it will sparkles endlessly. 
Item: BSLM-CE1000858RH
Plating: Silvertone Rhodium Plated
Base Metal: Lead Free Alloy (Brass) (Nickel Free)
Gemstone: Grade AAAAA Cubic Zirconia
Gemstone Cut Grade: Ideal
Gemstone Color: Clear
Total Carat Weight (appx):12ct (6ct ea)
Stone Cut: Round
Stone Size: 3mm, 2.5mm, 2mm, 1.5mm
Earring Size: 77mm (3in) L x 21mm W (0.8in)
Earring Weight: 0.2oz
Setting Type: Pave
Back Type: Friction Post